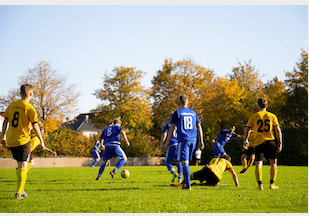 Become a CERTIFIED Youth Soccer Fitness Specialist
When you have completed the course, you will understand how to progress and create optimal youth soccer training programs that include a combination of strength, explosive power, muscular endurance, flexibility, and agility exercises to improve soccer performance.
Our comprehensive certification provides the tools needed to help establish you as the expert and give you the necessary Youth Soccer Fitness Specialist Credentials to showcase that you specialize in this niche.

YOUTH SOCCER FITNESS SPECIALIST CERTIFICATION ACCREDITATION AND APPROVAL
The GMP Fitness® Youth Soccer Fitness Specialist Online Certification Course is fully Accredited and Approved by the International Practitioners of Holistic Medicine (IPHM), the American Association of Drugless Practitioners (AADP), the American Natural Wellness Practitioners Board (ANWPB), the American Association of Natural Wellness Coaches Board (AANWC), the American Association of Natural Wellness Practitioners (AANWP), and the American Naturopathic Medical Certification Board. More CEC/CEU Approvals.
WHO IS THE PROGRAM FOR?
Everyone can learn from this program. The Youth Soccer Fitness Specialist Certification Online Course is for anyone wanting to improve and advance their personal and professional growth and knowledge of a holistic healthy lifestyle.
It is suitable for a wide array of health experts and professionals including certified health and fitness professionals, personal trainers, group fitness instructors, health educators, soccer coaches, wellness program directors, medical exercise specialists, chiropractors, chiropractic assistants, sports coaches, recreational activity instructors, physical therapists, massage therapists, athletic trainers, registered dietitians, occupational therapists, safety experts, physical education teachers, recreational activity instructors, registered nurses, certified nurse assistants, naturopaths, herbalists, physicians, osteopaths, and other allied health professionals.
✓ Specialist Credential
✓ No Credential Renewal Fees
✓ Certificate of Completion
✓ Mobile and Tablet Optimized
✓ Access – 24/7
✓ No Extra or Added Fees
✓ No Final Exam Retake Fees
✓ No Time Limit on Final Exam
✓ Paper Exam Option
✓ Supplemental Resources
✓ Client Handouts & Charts


Youth Soccer Fitness Specialist Certifciation

Youth Soccer Fitness Specialist Certification Reviews
Jill Dorr WITS Certified Professional

Jill Dorr WITS Certified Professional

Nicole B Maenza, WITS Certified Professional

Stephanie Seeley, NCCPT Certified Professional

David Spiteri ACE Certified Professional

Allison Riccardi, ACE Certified Personal Trainer

Nicholas Fincher, ACE Certified Personal Trainer

Tara Bartolain, AFPA Certified Personal Trainer