GMP Fitness® Customer Service Testimonials
When our customers get enthusiastic about the top-level customer service they receive and give a 5-star review we love to share that experience with others.
We work closely with all students to reach our 5-star customer service goal. So if you are looking for a company with excellent customer service, high-quality courses, and products, supported by years of knowledge and expertise then we are the precise fit for you.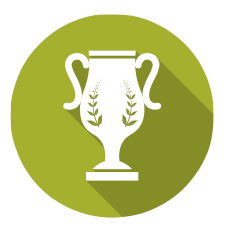 I am so glad that I discovered your Website with course material for Personal Training recertification (education). I have used your course material and services for 2 recertification periods and both times have been quite astounded at the level and quality of customer service that you provide. You have been extremely responsive to my questions, made ordering/shipping and receiving a breeze, and delivered high-quality and relevant course material. I will highly recommend GMP Fitness to my co-workers. Thank you for providing the finest example of what customer service should be!!! – Monika Olson, RN, NASM Certified Personal Trainer
The customer service at GMP Fitness is top-notch! They are quick to get back to you and are always there to be sure you are satisfied. Thanks, GMP Fitness!! – Chris Manning, ACE Certified Personal Trainer

I have used GMP Fitness on many occasions to fulfill my CEUs. The material is well-presented and easily understood. I needed to contact Gina during one of the programs and her follow-up was immediate and with full resolve. I love using her courses! – Kelly Erving, WITS Certified Personal Trainer
Thanks so much for your outstanding service! I'll be sure to earn further CECs from your company. – Laura Healy, ACE Certified Personal Trainer
Customer service is outstanding! – Collin Kerstetter, ISSA Certified Personal Trainer

Gina, you have a great business, that is for sure and I recommend it to everyone.  – Katie Cummings, ACE Certified Personal Trainer
This was a great course. Well organized, well documented, and illustrated. The materials that were provided are first class. I enjoy GMP very much and the customer service is relentless. – Ted Hart, WITS Certified Personal Trainer

Thanks for the email and phone call follow-up. It shows you truly care about your business and customers. I'll definitely look over the other courses and consider your business for my future continuing education credits. – Mike Morrison, ACE Certified Personal Trainer
Thanks for the quick response. You do great work 🙂 I've taken a couple of your courses now and have been so impressed by their quality and consistency 🙂 – Nicole Fasules, RD, CD, CSSD
Great course! Excellent company to purchase from with exceptional customer service! The information will help me implement safe and effective programs for my clients. Insight into appropriate workout routines for runners as well as prevention and recovery strategies. – Jenni Masse
Y'all are so good with responding quickly Thanks too for the phone call. Wow, customer service A++, as always! Thanks again. – Robin Stodden, NETA Certified Personal Trainer

I'll be sure to recommend you to any of my colleagues looking to increase their certs and specialties, and you can be sure I'll be back for more, soon :).  – Karie Smith, NSCA Certified Personal Trainer 
You provide great customer service, if I have other fitness professionals ask for recommendations, I will be sure to let them know about you! – Cristi Wightman, NETA Certified Professional
GMP has the best customer service. They are so efficient and quick to answer all of our questions. Thank you so much! You guys are great! I will tell you about the great customer service!  – Kay Neipert  Certified Professional
You provide great customer service, if I have other fitness professionals ask for recommendations, I will be sure to let them know about you! – Cristi Wightman, NETA Certified Personal Trainer
The best program I have done in all the years I have been in this business. I also want to add that the customer service is simply amazing. I emailed a question and got a phone call within in 10 minutes. I was truly impressed. That level of service is uncommon, but very much appreciated! – Alex Prill, AFPA Certified Professional
Thank you so much. I was surprised at how quickly you responded. I appreciate the convenience of doing this at home. I will surely continue studying this way in the future. Thanks for your excellent service. – Blanca Lilis Deal, WITS Certified Personal Trainer
I really appreciate the personal service and attention. – Kimberlee Jensen Sted, 8th Element Yoga ACE-Certified Personal Trainer
My second course with GMP. Both were great! I highly recommend it! Gina was great and was always there when I had questions. She was very nice and helpful. Great customer service! I would recommend it to anyone. – Lisa Cipriano, NASM Certified Personal Trainer
Thank you very much! Excellent Customer Service!!! I really did appreciate your speedy service! – Maureen Ann Eckersley, WITS Certified  Personal Trainer
Thank you Gina for such prompt action. My package has arrived with such prompt delivery. I have done other courses in past years and GMP Fitness is always well-prepared, easy to follow, and very professional. Very happy with everything. You do a great job! Thanks. – Carole Riches, NETA Certified Personal Trainer
Love the course offerings and customer service at GMP Fitness. – Tracy Sipprelle, AFPA Certified Personal Trainer
I have gained a vast amount of knowledge from one course that will last me a lifetime. I will share what I have learned with friends, family, and clients. This is a great course that has an immense amount of content that is extremely technical yet easy to read and relay. – Amanda C Pahlke, ACE Certified Personal Trainer
I gained more professionalism. I will apply through the sessions of personal training for my client. Excellent. – Alfonso Anzalotta, ISSA Certified Personal Trainer
Increased knowledge. I will use the GMP Fitness courses as a supplement to my practice. Thank you. I love your courses! – John Stampfl, NETA Certified Personal Trainer
I will take more GMP Fitness courses in the near future. I am so thankful for your courses. They are very informative and useful. – Deborah Garrity, ACE Certified Personal Trainer

Thank you Gina for calling and answering my questions, very helpful. Impressive! – Marcia Clouse, ACE Certified Personal Trainer
Thank you so much, Gina, for sending my certificate so quickly! I learned so much from this program and can't wait to incorporate it into my fitness plan!  – Joanna Parsons, WITS Certified Personal Trainer
Thank you for your immediate attention to my call Gina, and for sending out this certificate – I appreciate your help! – Sherry Bonekat, ACE Certified Personal Trainer
Thank you for returning my results so quickly. I really appreciate it. I also appreciate the fast delivery of the course material and your promptness in exam results and CE credits. – Barbara Johnson, WITS Certified Personal Trainer
Your process is very organized and I look forward to continuing our CE purchasing from your business. – Anthony Pittarelli, ACE Certified  Personal Trainer
Thank you so much! I love the quick response from your company to receive my certificates. That is why I choose your company quite often. Keep up the great work! – Robin Stodden, NETA Certified Personal Trainer
Wow! I'm impressed with the turnaround time! Thanks, GMP Fitness. – Priscilla Allen, NETA Certified Personal Trainer

Thank you for being so quick with my results! I received my CECs and really appreciate your promptness! Will definitely use you again! – Susan LaPorte, WITS Certified Personal Trainer
Thanks for handling my paperwork so efficiently! – Debbie Harmon, NETA Certified Personal Trainer
Wow! Thanks for the speedy reply! – Carmen Gorman, ACE Certified Personal Trainer
Thank you, Gina! You've been great. – Meggin Gray, ACE Certified Personal Trainer
Great Course, I love GMP Fitness. The process was easy to make sure I was getting what I needed to earn my CEU credits. – Sara Jo Wurm, NASM Certified Personal Trainer

Thanks, Gina for the informative course, prompt service, and providing services exactly as described. – Michael Meyers, NSCA Certified Professional

Use GMP for CEC courses! Not only was the course very helpful and I'll be able to apply it to my clients … the customer service was amazing. Absolutely recommend GMP … 5 stars!!! – Lisa, ACE Certified Personal Trainer
Dear Gina. It was a good course. All of your material is great!! Thanks again for all that you do, have a great day! – Nadja Lewis, NASM Certified Personal Trainer
Gina is very detailed oriented and helped me to pick the continuing ed courses I need for my personal training and fitness instructor recertification.  I utilized her company, GMP Fitness to achieve recertification CECs at that time. Really enjoyed the course. Very informative and concise to help achieve my success in furthering my fitness career!!!! – Barbara Gentle, Personal Trainer at Bodies by Barbara